Moving day is stressful. Sometimes, cleaning the new house is the last thing on your mind when you're trying to navigate an exhausting move. But, cleaning the space before you move in can offer comfort, peace of mind, and make the new space feel more like yours from the moment you walk through the door.
Whether you have several days to prepare or just a few hours, there are a few tips and tricks you can use to thoroughly and efficiently deep clean a house before moving in.
Cleaning Tips for Local Moves
If you're moving locally and find yourself with a bit of extra time, the cleaning process can be much easier — especially if you're able to access your new space a day or two in advance of your actual move. If you have a day to commit to cleaning, then there are some thorough, but efficient ways to make sure your new home is completely clean and ready for you to move in.
Getting rid of any remaining grime before you create an inevitable mess on moving day can help give you a head start toward making your new place feel like home and wash away all remnants of previous tenants or owners. When you deep clean before your move, you'll find it's much quicker and easier to get settled. You won't feel like you have more work to do after your furniture is moved in and your boxes are unpacked!
1. Work your way down from the ceilings
If you start with the floors, you'll end up having to redo them later as you knock down or track in dust, debris, and dirt throughout the moving and cleaning process. That's why it's a good idea to always start with the ceilings and work your way down.
A fluffy brush is the best way to clean your ceilings and the edges and corners between the ceiling and the walls. A vacuum can damage the paint or scratch the walls, so a clean brush is the best way to go.

This gives you the opportunity to dust off lights, fixtures, light switches, and anything else around the room.
From there, you can move onto the walls, scrubbing where necessary. Once you're done, you can move down to scrub and polish the floorboards.
This method of working from the top down ensures that you've covered every inch of the room prior to cleaning your floors and leaves the entire place fresh and ready for your move.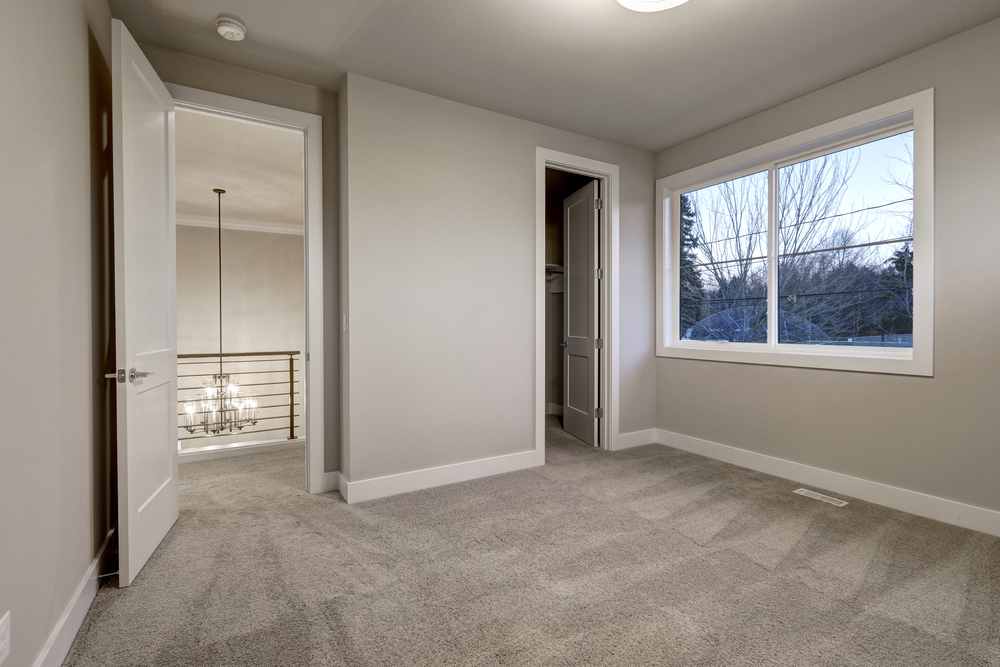 2. Paint, if needed

In some cases, you might want to touch up the paint as a way to prep your new space. There's no better time to do this than when the place is empty.
Scrubbing might not remove every stain from the walls, so if you have the ability to cover any stains with a new coat of paint, now is the time to do so. Or, if you have the time and perhaps have already decided to repaint any rooms, doing so while the home is empty can save you a lot of time and effort in the long run!
Still, even if you don't repaint an entire room, a few touch ups here and there can make a space feel newer and cleaner, welcoming you into a fresh space on moving day.
3. Clean the carpets and floors

Remember that your new home is never going to be emptier than it is now! That means now is the time to really focus on your carpets and floors without having to worry about moving around furniture or forfeit cleaning those hard-to-reach spaces.
If you own or can rent a carpet cleaner, start with your carpets so that they have plenty of time to dry before your move in the next day or two. If you don't have access to a carpet cleaner, a simple spot check can be helpful before you fill the space. Buy some simple carpet stain remover and address the areas where the carpet needs a little attention.
For laminate or wood floors, do a thorough sweep or vacuum and then follow up by mopping with the appropriate cleaner for each type of flooring.
Once your floors are finished, you've completed your cleaning strategy of working from top to bottom! That means you're ready for your move!
Cleaning Tips for Interstate Moves
We understand that in some cases, you might not have access to your new home with enough time in advance to spend a day or two cleaning! Maybe your deep clean and your move have to happen on the same day. This can be stressful, but it doesn't mean you have to sacrifice a new home that feels fresh and clean just because you're short on time.
Instead, you can simply restructure your priorities and use a few efficient techniques to ensure the place is spotless, even if you have to clean as you move!
1. Get it as clear as possible
Since you'll be in the midst of your move, it's impossible to have the entire space clear, but try to arrange items along the edges of the room so you still have as much space to work with as possible. The less clutter, the more you'll be able to clean without much hassle.
In each room, designate a corner or one wall for boxes and furniture so that the rest of the room is clear. Move forward with your cleaning routine and then feel free to fill in the space. If possible, avoid cluttering counters and other surfaces right away so that you can wipe those down before filling them up!
When the entire home quickly becomes full and cluttered, it can be easy to get overwhelmed. Try to set up a strategy first so that you can clean and move in efficiently and simultaneously.
2. Prioritize rooms you'll need to feel comfortable in right away
Focus on rooms like your kitchen and bathrooms. You'll need to do things like eat and shower right away in your new home, so you want these rooms to be ready for you. If you can get into your home before your removalists arrive, take the extra time to do a quick deep clean of your "high priority" rooms, so that you can start to feel comfortable as everything gets moved in.
Wipe down counters and appliances, scrub toilets, sinks, and showers, and quickly mop floors for a refreshed feeling.
3. Remember that a quick clean is better than nothing
Whatever you can accomplish on the fly is good enough! Don't feel discouraged if you don't have the time to do a full deep clean before moving in. Instead, prioritize the checklist items that are most important to you and feel free to clean as you go.
Any cleaning you do will minimize dust, dirt, and debris as you navigate your move and leave your new home feeling much cleaner and ready to get settled into when the last few items have been unpacked!
Brisbane Removalists
While it might be up to you to ensure your new home is cleaned, spotless, and ready for moving day, your job should stop there. Let professional removalists take the stress out of relocating for you, so that when you put down your mop or sponge, you don't have to start picking up boxes!
Get in touch with us today so we can help your next move be easy and hassle free!