Don't get stuck leaving it all to the last minute.
If you're about to move your office—regardless of whether it's interstate or around the corner—you're probably feeling very overwhelmed by how enormous the task seems.
You've already got enough to do in your own role, whether you're working from home or in a corporate setting, and somehow you need to pack up years worth of equipment and settle it into an unfamiliar space—without losing any working hours.
It does take a bit of planning, but don't worry—there are some simple logistics to help you get your office relocation over and done with quickly and smoothly as possible, so you'll soon be enjoying your new workplace.
Plan the move early
No matter who's in charge of coordinating your office move, it will be a person who already has a busy job. It's hard work, so if you can plan early, you'll be able to enlist a bit of help from all the staff in the office to make it easier—and find a good mover with plenty of time to spare.
An office and corporate relocation specialist will be able to plan and orchestrate your entire move so you're settled into your fresh new space in minimal time, with minimal interruption to your daily operations.
Start looking in the months before the move to give yourself plenty of time to do your research, and to give the movers time to visit your office and coordinate your move. Planning early will give you time to develop a strategy with your professional office relocation experts, but it's also helpful to arrange the move with the help of web-based project management tools that can assist you in managing the tasks and deadlines of your move.
You can share this information with your colleagues, which might include essential dates and tasks—like changing addresses on all their documentation, taking inventory, informing their customers and clients,providing printouts of floor plans for the new workspaces, and when deep cleaning and maintenance will happen.
Commercial relocations often need very specific deadlines because of the expense and legalities of the leases held over the new and old properties. They have to be done fast, and planning your move months in advance will mean your movers, suppliers and colleagues will all be on track to complete their part of the shift on time.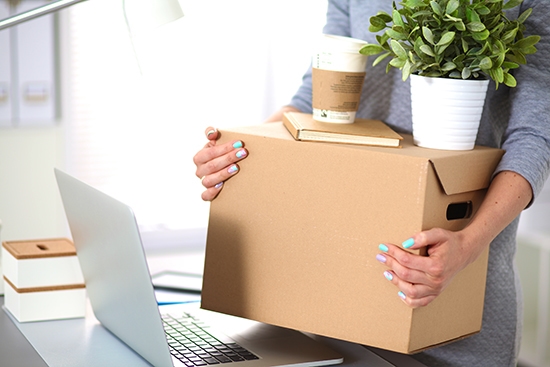 Every day that your business isn't operational costs a fortune, so planning everything in advance—from patching up and repainting your old.
Plan the new workspace
One of the most important things you can do to avoid any downtime in your business because of a move is to plan the new workspace.
Creating a floor plan with details of seating and furniture that goes in each room will help the movers and your colleagues to know exactly where everything has to go.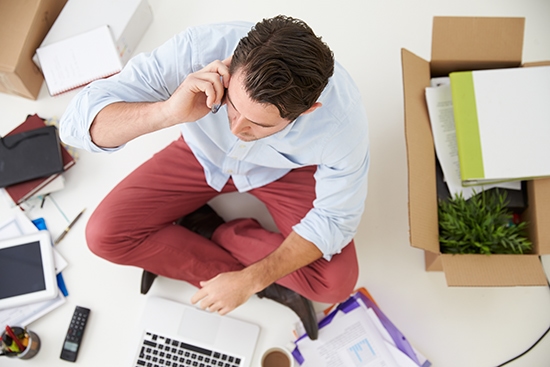 Labelling each zone, and labelling the corresponding boxes for that area will mean that every box goes where it needs to go, and nothing gets lost.
If you're buying new storage equipment, supplies, or furniture, order it some time in advance of the move—this will mean it's delivered on time, and you won't be trying to complete your daily tasks in a space with no desks or chairs.
You'll also save yourself doubling up on moving, because you won't be filling the new rooms with boxes of supplies that you'll just have to shift again when the furniture comes.
But be careful with this—if the new furniture comes before you've got access to the new office space, you'll need somewhere to store it.
Planning the new workspace makes it easier to know what you really need to bring along, and what's ready to be let go of, especially if you're able to get the dimensions of the new office or corporate suite.
In every office, there are unused and outdated supplies that should have been disposed of years ago, and have just become part of the scenery. On the other hand, you might find things you'd forgotten about—like a laminator that still works, or packets of printer ink—that you won't need to replace.
You'll save time and effort—maybe even money—if you've thoroughly cleaned out your office beforehand. Your new space might not need a complete fit out to accommodate your business, but if you've got access to it before the move, you should still get in there to inspect it and do the small jobs it needs.
Plan early to give yourself time to arrange your utilities and services, paint, or assemble and mount newfurniture and fixtures so it's ready for you to start work straight away—and to find out what regulations and daily obligations (like security systems, locks, and building opening hours) come with the space.
Plan the packing
Sometimes it helps to first pack the things that you need the least. Non-essential items, like reference material or archived work can be packed and moved first, and the items that you can't work without should be packed last—and marked to be opened first at the other end.
Office relocations can also be tricky where sensitive and confidential information needs to be transported. These documents need to be packed and moved separately, and an employee in a trusted position—rather than your movers—should be responsible for handling them.
The task of moving your other important or valuable items should also be allocated to someone trustworthy who will take responsibility for ensuring they get to the new space, and in one piece.
You should supply your colleagues and employees with storage boxes and equipment to properly pack their items, and instructions on how to prepare items that are fragile or difficult to pack (like computer monitors).
They should also label and seal their boxes, and ensure that any personal items of value or importance are taken home with them and not left with all their work equipment. Professional office relocation professionals will already know which order to pack and move the furniture and equipment in the office, but make sure all thepeople in your workplace understand which goes first, so they can be ready.
Essential furniture including desks and chairs goes first, so that computers,phones and printers have somewhere to be set up for work to recommence. Planning your packing early, and ensuring your colleagues know what to do will mean that their supplies and equipment are ready and waiting when the movers arrive, and ensure a smooth transition into the new workspace.
Plan with professionals
Successful office moves and commercial relocations are possible with specialist knowledge and the right equipment. Comprehensive planning and project management ability, combined with a dedicated fleet of vehicles customised for the industry, can help you transition smoothly into your new workplace.
Faulkner Removals have everything you need to get settled into your new environment with minimal stress and interruption to your productivity, so contact our friendly staff in Brisbane at any time to find out how we can help you with your commercial move.